Sunday, April 21, 2019
10:30 - 11:30 am
2180 Bayview Avenue
This event has already occurred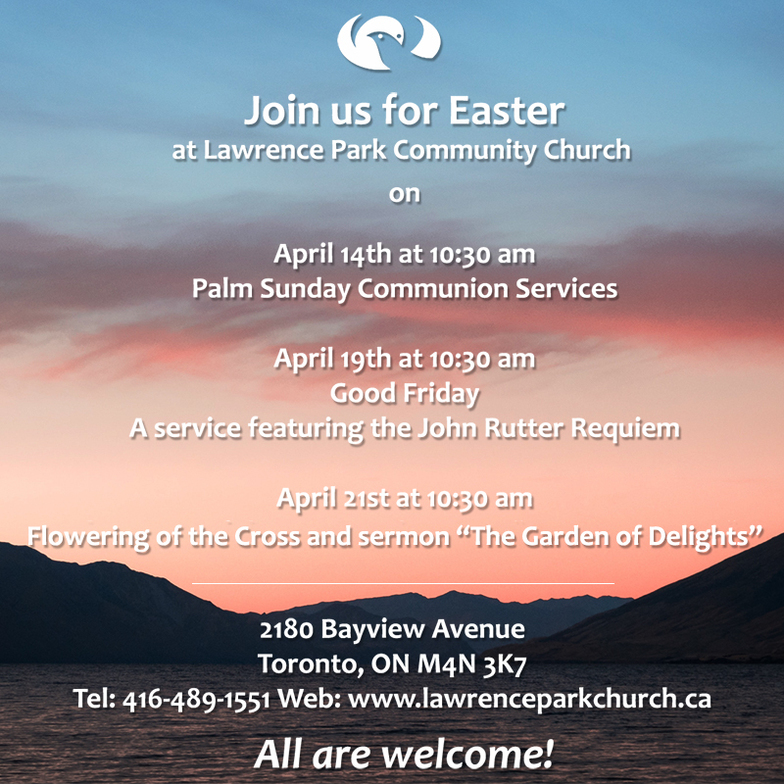 Sunday, April 14, 2019 - Palm Sunday - This is a tough Sunday as we try to balance the joy of Palm Sunday with the anticipation of the horror of crucifixion. Palm Sunday is a movable feast that falls one week before Easter Sunday. We celebrate the triumphal entry of Jesus Christ into Jerusalem, which took place the week before his death and resurrection. Sunday is often referred to as Passion Sunday and marks the beginning of Holy Week, which concludes on Easter Sunday. Communion will take place.
Friday, April 19, 2019 - Good Friday - John Rutter Requiem, a musical setting of parts of the Latin Requiem with added psalms and biblical verses. Conducted by our Musical Director, Mark Toews includes the Lawrence Park Community Church Choir with Kimberley Briggs, soprano and instrumental ensemble with William Findlay, cello and Erica Goodman, harp.
Sunday, April 21, 2019 - Easter Sunday All In Service - Sermon - "The Gardens of Delight" - Having doubt is a natural and normal part of an evolving faith. Making the commitment to follow Jesus requires faith. How does our experience of faith help us to connect to the other side of faith: our doubt? How can doubt bring us closer to God? How can our doubts bring us closer to one another in a congregation? The promise is that the power of the Holy Spirit is an active agent bringing us closer to God's love. It's as if it is a bridge that helps to close the gap between faith and doubt, hope and fear. It's like yin and yang or a coin with two sides: we can't have one without the other. As a congregation, we are there to hold hope and faith for each other when each of us faces our times of doubt.