Sunday, March 31, 2019
5:00 - 7:00 pm
2180 Bayview Avenue
This event has already occurred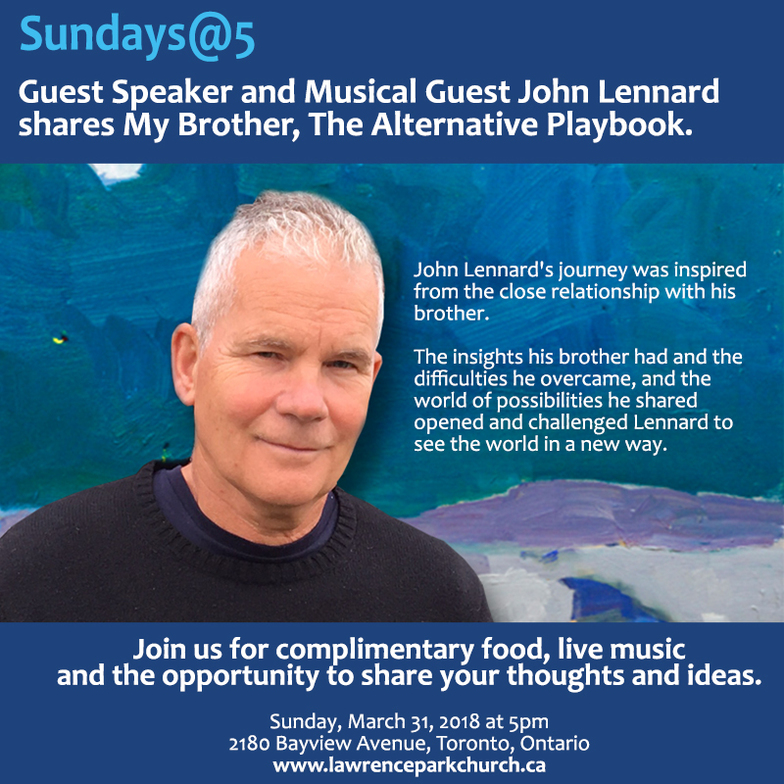 ALL ARE WELCOME!
Good mental health is an essential component of overall health and well-being and is often overlooked in both the community and the workplace, even though the statistics are staggering. Mental health disorders are the leading cause of disability. These disorders affect people from all walks of life, regardless of age, gender, economic status, or ethnicity. Whatever our situation, we are all at risk of poor mental health at some point or stage in our life.
Join us for complimentary food, live music and the opportunity to share your thoughts and ideas as John speaks about the challenges his brother faced and how we can stay educated and informed.
Our special guest is John Lennard who will speak about My Brother, The Alternative Playbook. John Lennard's journey was inspired from the close relationship with his brother. The insights his brother had, the difficulties he overcame, and the world of possibilities he shared opened and challenged Lennard to see the world in a new way.
Our Speaker and Musical Guest
John Lennard has been Featured in American Psychologist 2018 and the University of Toronto Bulletin Brief 2018. In 2018 Gillian Deacon host for the show Here and Now introduced John Lennard as the guest speaker at the Creative Gems Art auction. Lennard has competed and shown with the worlds best in three different disciplines: An all American intercollegiate athlete and member of the Canadian squash team during the world championships. An artist, Lennard is represented at the Roberts Gallery in Toronto, Masters Gallery in Calgary and the Thielsen Gallery in London, Ontario. He was also shown at the International Armory show in New York as a member of the "Quiet Revolution in Canadian Art" 2011. Lennard has performed and recorded music as a saxophonist throughout Europe and North America being featured on BBC radio, and television playing with some of the world's best musicians in both rock and roll and jazz
Please RSVP to Judi Pressman at [email protected] if you are planning to attend. We would love to see you!