This event has already occurred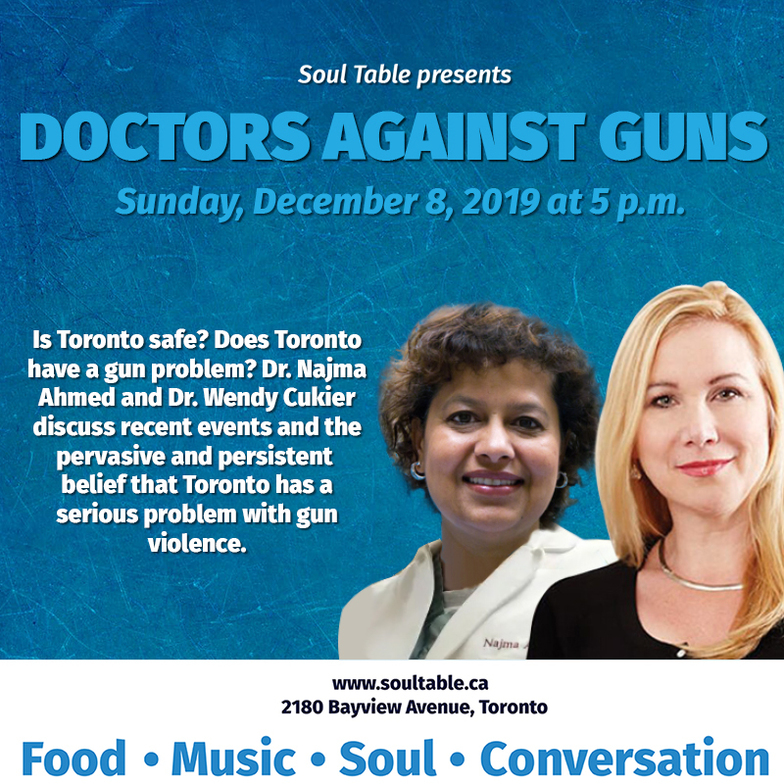 Save to your Calendar
RSVP - https://www.eventbrite.ca/e/soul-table-presents-doctors-against-guns-tickets-83265815295
Is Toronto safe?
A strong majority — 78 per cent — of Torontonians believe it is, especially when compared to other cities of a similar size around the world. And when you look at crime statistics, city residents are right to feel this way. There are even Canadian cities with higher crime rates than Toronto.
But, once you get past the civic pride, and appeals to keep things in perspective, many Torontonians — 55 per cent — are personally afraid of falling victim to gun violence. Given recent events, it's easy to see why. But it's not just the incident on the Danforth that's driving this fear. There is a pervasive and persistent belief that Toronto has a serious problem with gun violence.
Why does Toronto have a gun problem? Join us this evening to share in the conversation.
About Dr. Najma Ahmed:
Dr. Najma Ahmed is the head of the trauma unit at St. Michael's Hospital and treated victims of the Danforth attack. She is part of a group of doctors pushing for tighter gun laws called Canadian Doctors for Protection from Guns. She has been targeted in an "organized campaign of mass harassment" fuelled by gun-rights activists.
As a trauma surgeon, Ahmed says she was "nervous about a mass casualty event, about the crowds and hoping that all the fans were going to be safe and secure. She was worried also about less dramatic things like heat stroke, heart attacks, trips and falls, drunkenness – things that can happen when any large crowd assembles."
About Wendy Cukier:
Dr. Cukier is one of Canada's leading experts in disruptive technologies, innovation processes and diversity. She began her career in technology forecasting with the Institute for the Future (Menlo Park) and Don Tapscott among others and remains interested in emerging technologies, their diffusion and impact. In recent years her work has focused on the drivers and impediments to technology adoption in different vertical markets as well as the much publicized skills gap in the technology sector.
Dr. Cukier is the Founder (in 1999) and current Director of Ryerson University's Diversity Institute, which she founded in 1999 and has led projects aimed at promoting the participation and advancement of underrepresented groups. She has assisted organizations in becoming more inclusive through innovative programs such as DiversityLeads, which tracks the progress, impediments and evidenced-based strategies for promoting diversity in organizations.
Finally Wendy Cukier is a well-regarded champion of social justice, she has studied models of change and pioneered the adaptation of ecological models of complex systems change.